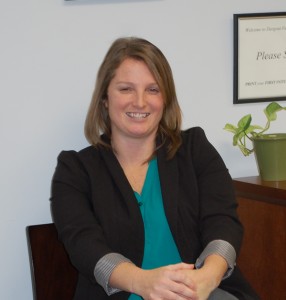 Dr. Christine M. Dargout has been a member of the Greater Rochester Community for more than fifteen years.  She met her husband in undergraduate college while attending Monroe Community College.  Together they knew that Rochester provided a wonderful community to raise their future family, which now includes a quickly growing daughter.  They are proud to call the area home.
As a senior in High School in Massena, New York she had the opportunity to shadow various health care professions where she witnessed firsthand the dramatic affect Chiropractic had on people's lives.  Dr. Dargout appreciates the philosophy of Chiropractic, treating the whole patient by addressing the source of their complaint rather than covering up the symptoms with pharmaceuticals and preventing unnecessary surgeries.  In order to follow her dream Dr. Dargout attended both Monroe Community college and then attained a bachelor's degree from SUNY Brockport.   She then received a first-rate education in the diagnosis and treatment of many conditions at New York Chiropractic College.
While pregnant with her baby girl Dr. Dargout received Chiropractic care throughout her pregnancy up to the week of delivery.  She learned firsthand the importance of Chiropractic as part of pre-natal care and the benefits it offers, and therefore sought further training in this area.  Pregnant women who seek Chiropractic care throughout their pregnancy not only have an easier delivery with fewer interventions, but also have decreased nausea, low back pain, and "sciatic" pain.  With the utilization of a technique called the "Webster technique" pregnant women are less likely to require intervention during child birth.  She has also sought additional training in treating pediatric patients and administered her daughter's first adjustment one day after she was born.  Her daughter loves getting "practor" adjustments and is reaping the benefits as she grows.
Just as Dr. Dargout's beautiful daughter has provided her with much inspiration, so too has her husband.  As the spouse and "personal chiropractor" to a professional athlete she has learned a lot about treating sports injuries, from sprained ankles to injured shoulders.  Since Mr. Dargout is no longer 18 (as he believes) he has frequently incurred injuries while playing with the Rochester Lancers Professional Indoor Soccer Team.
She is excited to provide the highest standard of care, working together with the rest of your health care team, to give you the best results possible.  Dr. Dargout looks forward to meeting you and returning you to your "playing form".